Photoshop Finishing Touches by Dave Cross
2
Product Description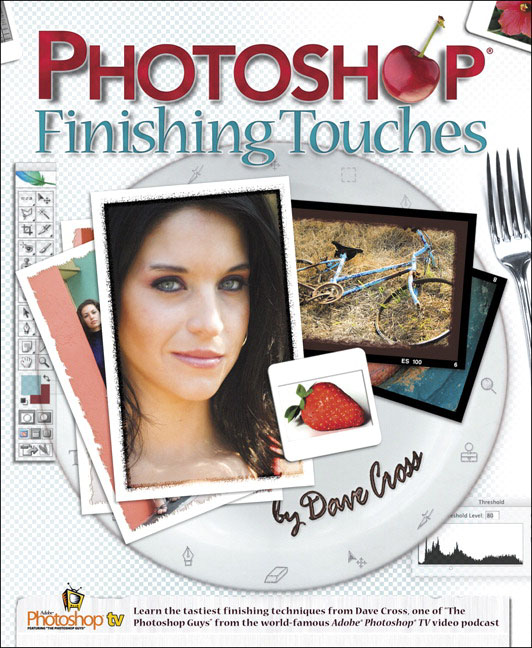 if you are newly intrested in photoshop finishing touches -there are many ways to improve,polish,and add pizzazz to images by using your favorite software –this is the tutorial for you!the first that i can tell you is exclusively to the topic. Finishing touches for photoshop Cs2 gaves you the most treasure chest of creating finishing techniques and tools.the chapters on Frames and border lines effects,artistics effects and colour,presentation,printing and shapening,by using this full color guide it cover all the creative cropping to dramatic lighting,stock photos,combining black and white and colour,college ideas,story book layout,selective blurring,PDF presentation and many more..you can click alone on an toturial by clicking each techniques at any point without passing through a lot of info  that is not relevant to the task that in ur hand.
You'll also find several variations for most techniques as well as instructions for creating reusable templates.
About the Author
this book is written by a great professional named as Dave Cross, he is a senior decveloper ,curriculam and Education for the NAtional Association of Photoshop  professionals in simplw ways we say (NAPP).he also write the most popular weekly Quicktime-based tutorials that we can find it on various number of websites.he is the person who is an Adobe certified instructor in photoshop Cs2 and a technical Trainer as well as he is the famous author and co-author of numerous illustrator books and photoshop toturials,including Cs2 kille tips and help desk….
imagime that your photoshop piece is almost complete and u want to add some finishing touches.It may be a border effect,or may be some kind of colour treatment or some kind or "Pop"This book tell you all about the finishing touches that you want to add in your master piece.By using this king of book u can add various kinds of effects like frames artistics effects and many more… in this book u will learn how to creates your special effects in a very flexible and editable ways that are just on the tips of iceberg,giving you many countless possibilities.this books has a basic ingredients for you and encourage you to do diffrent experiments and and cook up your own incredible variations.with its diffrent but unique,visual table of contents,stand-alone techniques,and jump-in-anywhere layout,you can now immediately start adding that special efects like polish and pizzazz to your photos.